Tampa Bay Roofers
Quality Roofing in Tampa
Storm Damage
As us Floridians know, storms and therefore storm damage are a pretty common occurence. No matter how common though it will always come at the worst time for a homeowner! We here at Tampa Bay Roofers want to assure you that we provide the help you need to solve your storm damage problem at a moments notice.
Signs of Storm Damage
Typically the first way of looking for signs of storm damage is to take a look at your shingles. Look for missing shingles or any dents or noticeable damage on shingles attached to your roof. Other signs of potential damage include missing flashing long the edges of your roof and where your roof meet objects such as chimneys, vents, or skylights. Damaged gutters or water damage in your attic or sealing could also point to storm damage. If you see any of these signs it may be smart to contact a roofing professional who can go up on the roof and inspect further.
Storm Damage & Leak Repair
We tackle storm damage repair in Tampa, FL with efficiency, professionalism, urgency, and reliability. We want to get your home back to the way it was as soon as we can!
We are great at repairing leaks too. If you find a leak just give us a call and we'll get out as soon as possible to inpsect it and fix it! Leaks are common with damaged roofs and while many are large and easy to spot, it can tough to locate smaller leaks to someone who isn't used to looking for them. There are a lot of things that can cause leaks, high winds can lift up roof material allowing moisture to seep in, animals can wreak havoc on vulnerable spots in a roof, plus many other weather related things.
What you don't want to happen is have items damaged in your home or in your attic, that can be the start of what could become a worst case scenario. Once too much moisture is allowed to work its way in to your home it can wreak havoc and lead to bigger problems.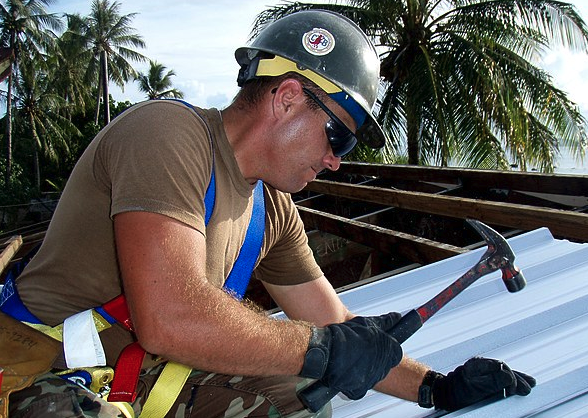 If the protective layer on the underside of your roof became damaged from a leak there is possibility that a large of your whole roofing system would need to be replaced. Moisture also causes warping of wood which in turn could create real problems for you and your roofing structure. There is also the possibility of mold and other fungi sprouting up presenting a potential health hazard to your family.
Attics just in general are mold breeding grounds due to the nature of an attic. If mold goes unnoticed and untreated it can be a great damage to your home. A serious mold problem will cost a homeowner a lot of money and stress to deal with not to mention the potential health hazard. Fixing a leak quickly is so important in avoiding these slippery slopes that you will go down if you do not take care of it sooner rather than later.
Leaks start small but can create big problems. Give us a call if you find a leak so we can keep those problems small and keep your life a little less stressful! Contact Tampa Bay Roofers today!